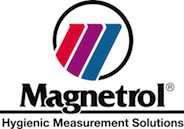 Magnetrol International N.V.
Heikensstraat 6
9240 Zele
Belgium
Phone: +32 (0)52 45 11 11
Fax: +32 (0)52 45 09 93
E-mail:
Click here to send an e-mail
Website:
http://www.hygienicsolutions.magnetrol.com
Profile
As a world leading, global supplier, of high quality level and flow instrumentation for over 80 years, Magnetrol International added a range of liquid level instruments that are dedicated to servicing the needs of the Hygienic industries. This group of products further expands our extensive portfolio of high quality liquid level and flow products and allows us to further develop our successful entry into hygienic industries across Europe, the Middle East and Africa.
The Hygienic family of products have been designed and developed to the same exacting standards, for which all Magnetrol products are renowned worldwide and this group of products includes the industry leading Eclipse 705 Guided Wave Radar level transmitter, Echotel 960 series Ultrasonic liquid level switches and Thermatel TD/TG series Thermal Dispersion flow and level switches.

All Magnetrol hygienic products have been specifically designed to provide continuous reliability and repeatability, for even the most demanding of applications, and all hygienic products carry both 3A and EHEDG approval for use in applications that require the most stringent levels of cleanliness and they are ideally suited to both CIP and SIP cleaning regimes.

At the heart of the Magnetrol hygienic product family is the internationally acclaimed Eclipse 705 Guided Wave Radar. With over 10.000 successful installations in hygienic applications around the world, the Eclipse has proven to be the level measurement instrument of choice for many globally recognised companies in the Hygienic industries.

For more information on the hygienic range of products from Magnetrol please visit www.hygienicsolutions.magnetrol.com.
Supplier of (complete lines / equipment for)
Instrumentation
Thermal mass
Ultrasonic-flow
Level switch
Level
Radar
Ultrasonic-level
Mechanical
Articles
Beer level control at Kronenbourg Brewery
Niveaumeting tot op de bodem
(Dutch)
---